Utilizing BIM and Revit in the Cost Estimation of Projects
Cost estimation is a vital part of the preconstruction phase of every project and Revit is a powerful tool to provide predictability and accurate quantification. With detailed, accurate, and predictable pricing, all project stakeholders will have a better understanding of the final costs. The document level varies by project, but regardless, we are able to develop a conceptual model in Revit as part of our preconstruction services, this extends to creating conceptual models solely from renderings. Renderings are often the first model created for a project and are not always an accurate representation of the project's program.
Typically, renderings during the preconstruction phase are developed separate from conceptual drawings. This often creates significant discrepancies within the conceptual project information. Our VDC department utilizes Revit to create a BIM model of the building to a level of development specific to the project needs. This model can then be used for quantification, visualization, value engineering analysis, systems space allocation, site logistics optimization, and 4D scheduling. Given the increasing complexity and reduced construction timeframes, a 4D schedule becomes a vital tool in preconstruction to demonstrate our construction approach to various project stakeholders.
Our VDC department's extensive knowledge with Revit allows us to create a project specific 3D model to mitigate risk associated with traditional conceptual plans. For example, optimize building height and floor to floor height to support mechanical, electrical and plumbing systems and the specified ceiling heights. Through the use of BIM in preconstruction, we can avoid common issues like this before building the project. Therefore, this allows for a more accurate cost estimation and more constructible design. We are also able to leverage the 3D model to accurately price and communicate value engineering ideas that allow the project stakeholders to make timely, informed decisions. For instance, we can not only identify and price a VE idea, but we can also show the design professional and owner what impact that can have on the building, visually.  Take for instance a change in the skin materiality. If the base cost estimate carries 50% glass, 40% stucco and 10% brick masonry, and we offer a value engineering idea to reduce the glass to 40%, our model will visually show the owner what impact this will have on the facade. CJ Britt, Director of Preconstruction, states:
"Many of us are visual learners and communicators, so our Revit models allow us to convey cost savings ideas in a more effective manner. This allows the client can make a timelier decision that has a more predictable outcome."
Building conceptual models in Revit allows a better understanding of the project from an estimator and owner point of view. We can recommend the type of structure that best fits the project, as well as other important features, such as the location of mechanical shafts, optimization of balcony designs, and conceptualize exterior skin connection. [JL1] For example, we can approximate where support beams or columns are needed based on the building's design. Using Revit during the preconstruction phase of the Nova Southeastern Student Housing project allowed us to determine that a change in structure type (from cast-in-place to precast) would ultimately save both time and money for the client, while still delivering a quality product to the University.
For the cost estimation process, we can provide subcontractors the Juneau Revit model via BIM 360 Glue so that all subcontractors can utilize the same model for their pricing effort. This doesn't replace the contract documents, rather this is a supplementation that allows more accurate and predictable pricing from the sub community. We have noticed that when providing traditional project information, it can be difficult for all subcontractors to interpret the scope of project in the same way. For example, when we are comparing the pricing from five different concrete subcontractors, we can better compare the cost when all five companies have received the same information through detailed scope of work documents and models. Jake Landreneau, VDC Director, states:
"We're not taking models at face value, we're pairing the model with experienced estimators for correct, quick pricing."
In summary, Revit allows all parties involved in a project to have a better understanding of the costs associated with each component and how each project has specific cost drivers that can easily be manipulated with the model to allow for optimization of an owner's budget.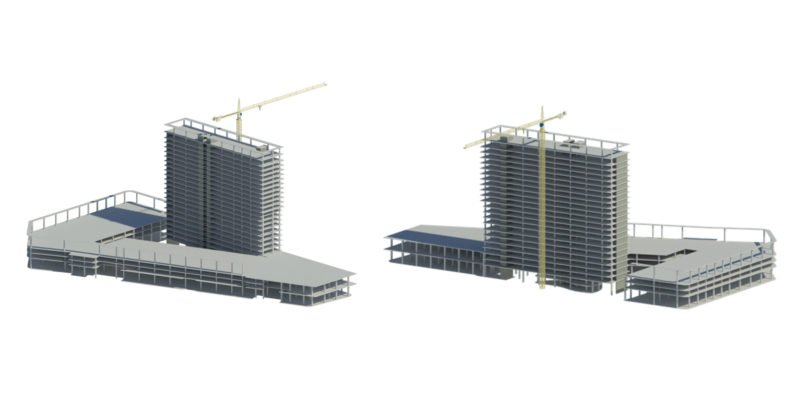 Back to All Insights