Thoughts on the Construction Industry Labor Shortage from a Contractor's Perspective
The construction industry is booming and has been at least since 2012, in most areas of the country. That's great, right? Yes and no. While the latest recovery is unlike any I have experienced in my lifetime and we are indeed thankful, an effect has unprecedented labor shortage and this particular shortage is not limited to skilled workers. The shortage includes: Architects, Engineers, and Construction Professionals. Let's explore some of the facts, causes, and effects of the labor crisis and more importantly, potential solutions to what is an alarming situation.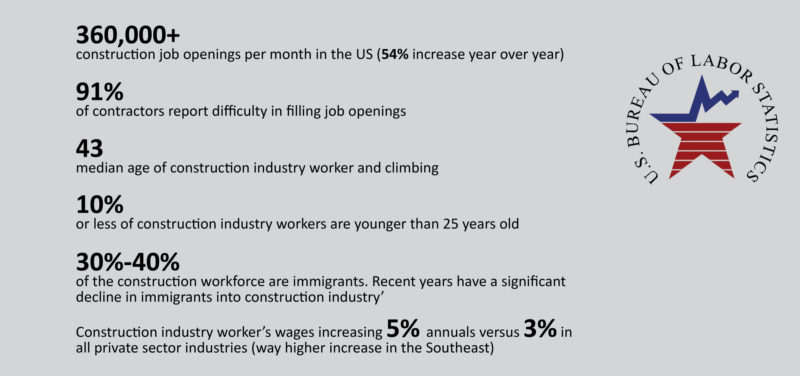 I could go on and on with facts related to the well documented shortages of skilled and unskilled workers in the construction industry as well as the thin talent pool available in the A/E/C profession, but let's move on to addressing the current situation and what kinds of things must be done to create the ability to weather a robust construction environment, which all of us in the industry hope continues.
Labor Shortage Causes:
Unprecedented new construction volume
Decades of parental social demands of "Go To College"
Baby Boomers retiring
Tightening immigration policies
Last recession created exodus out of industry (trades and professionals)
Women leaving industry citing discrimination, lack of work-life balance, and wage discrimination with males
Labor Shortage Solutions:
Robust commitment to workforce development by A/E/C community
Workforce development is finally a priority for many in the industry (including Juneau).
In Georgia, the Construction Education Foundation of Georgia (CEFGA), is a champion of bringing skills, training, and education to the classroom (High Schools, Technical Schools, etc.) and then partnering with the construction industry to place students into the workforce (we, General Contractors, should seek out and hire these companies).
The A/E/C community needs to partner with colleges and universities to assist with expanding enrollment and graduates.
The A/E/C community would do well to emphasize soft skills and diversity training. We need more women, minorities, and immigrants entering our industry.
Last, but not least, we all need to put our time and money where our mouth is and get super active in being aggressive towards developing the future workforce of our industry, it's time!
Sidebar:  Check out "Mike Rowe Works Foundation," Mike hosts the TV show "Dirty Jobs" and is a long time champion of workforce development, we could use more people like him.
Immigration Reform
No matter where one falls politically regarding immigration policy, the facts are that until and unless America's youth become more interested in construction, immigrants are necessary to have any chance of executing the work in normal construction times, never mind in today's heated market and particularly in the South.
Immigration reform, which provides workers and their employers with an opportunity to operate legally would be game changing. There must be a process that can be done effectively though, and not take years to develop since we don't have time.
In summary, our industry is experiencing a labor shortage that spans from the unskilled worker to A/E/C industry. Construction costs, primarily due to labor shortages, have skyrocketed to levels that jeopardize the financial feasibility of projects moving forward. It is time to develop a deeper, younger, and better trained workforce or I fear for where our industry might be heading.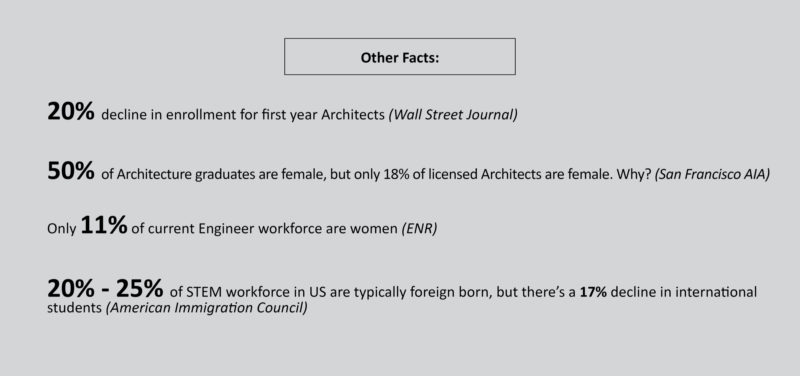 Back to All Insights