Top 3 Benefits of Design-Assist In Higher Education Projects
There are several options when it comes to design collaboration techniques that can be utilized on a project including, Delegated Design, Design Assist, and Design Build. In Juneau's 25 years of experience, we have seen an increasing interest in higher education institutions shifting towards a Design-Assist collaboration method for their projects. Under a Design-Assist collaboration approach, the construction manager is engaged by the owner to collaborate with the design team during the design phase. Often, the construction manager will also engage key trade partners for their valuable input.
At Juneau, we have a proven team of preconstruction, operations, and virtual design and construction professionals that have completed Design-Assist projects in a wide array of market segments, but more specifically higher education. Choosing Design-Assist allows the owner to leverage the experience, knowledge, constructability, and suggestions from those key individuals who will actually be engaged in the field building their project. Below, we have outlined top three benefits that our Juneau experts perceive to make Design-Assist a superior choice for your next higher education project:
Improves Constructability
Soliciting valuable advice from key trade partners, the construction manager and design team can create a design that enhances the project's constructability in several ways. When a project does not have a collaborative design approach, oftentimes the project has already been priced before the constructability of the design can be reviewed. First, MEP systems can be selected and designed with the specific needs of the institution in mind. For example, the constraints of the building and budgetary requirements must be a priority when designing MEP systems. Second, materials can be selected that leverage all aspects of availability, price, and quality. Third, and most important to renovation projects, the intricateness of complex projects are able to be discussed upfront to ensure all aspects of constructability are reviewed prior to finalizing the design.
Improves Efficiency
There are many ways that Design-Assist increases the efficiency of a project. During the design phase, there is more fluid communication between the owner, architect, construction manager, and trade partners. The team dynamic and cohesions can begin much sooner, which creates a better team chemistry and results in a better project. Additionally, the personnel responsible for constructing the project are solicited early on and can provide insights upfront, rather than during construction when it can sometimes be too late.
Reduces Time and Cost
The collaborative efforts minimize the risk of any unexpected costs and streamlines the project schedule. Delivering a project on time is important to every client, but none more so than a higher education institution with an iron clad open date. During construction, when a trade partner or construction manager experiences a problem in the field, typically construction in that area is halted and an RFI is submitted to the owner and/or architect. Typically, the response can take as short as a day or as long as a week. This means that scheduling delays can happen because of needing clarification. Since there are collaborative efforts upfront with Design-Assist, RFIs are greatly reduced and virtually eliminated. Second, a more realistic budget is created during a collaborative design process. Each aspect of the project can be reviewed and the appropriate materials and/or equipment can be selected that fits the specific needs of the institution. Furthermore, with decreased RFIs, there are fewer possibilities that result in change orders and increased costs.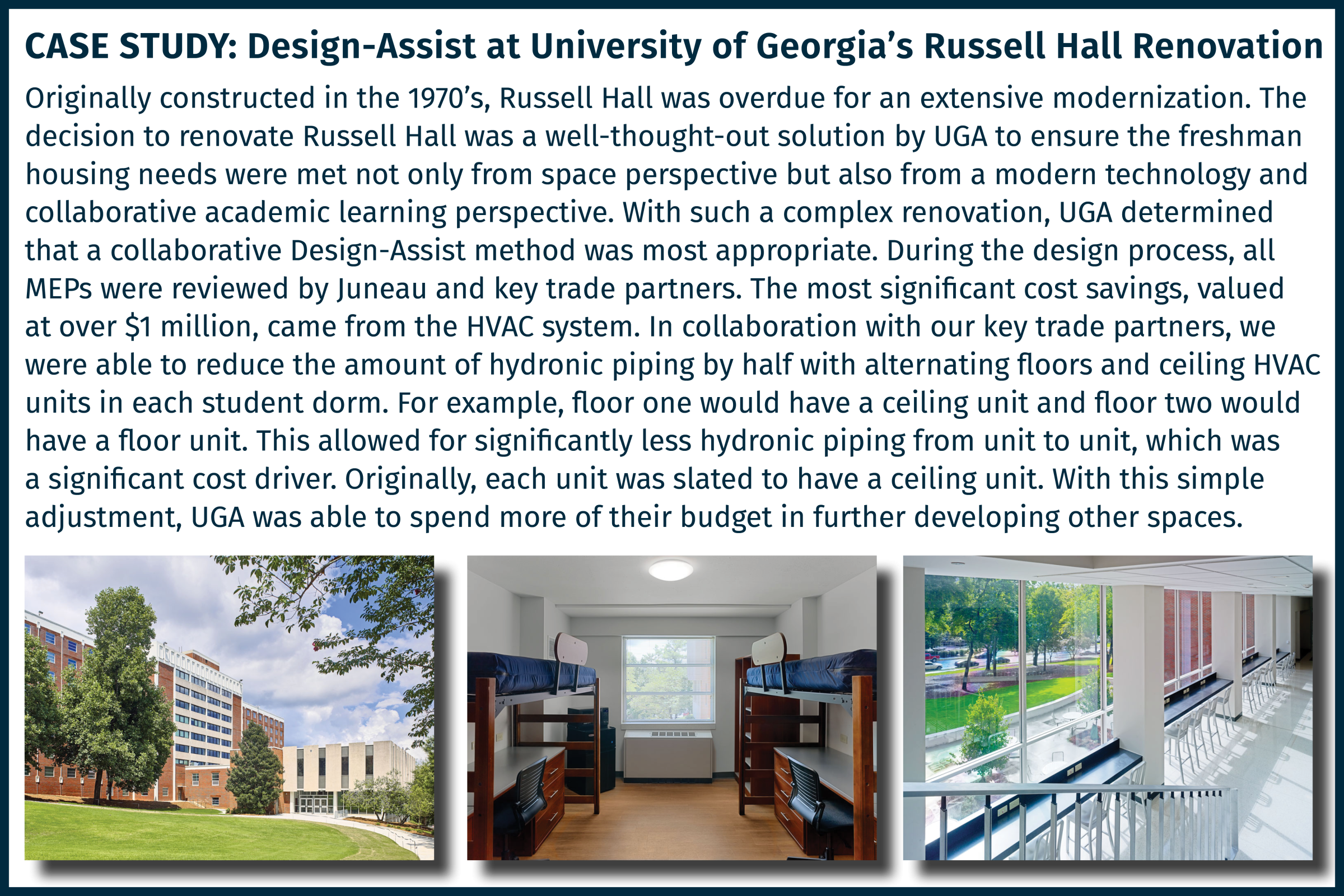 Hear what our trade partners are saying!
"Taking a design-assist role is how we would prefer to bid jobs. Being asked to provide design-assist services means there is a better opportunity to show our knowledge and secure the job. When a Subcontractor takes on a Design-assist role, it is a major benefit to the Owner because we can share current market trends and costs based on our experiences every day."
– Shawn Jones, Vice President, Southern Mechanical Contractors, Inc.
Click here to check out Juneau's higher education portfolio!
Back to All Insights