Keys to a Successful Concrete Pour
Concrete is a critical path item that impacts the entire project schedule. By having extensive, early coordination with our Virtual Design & Construction (VDC) team and utilizing technology as a quality assurance (QA)/quality control (QC) tool, our team maintains an efficient concrete flow and keeps the project on schedule.
EXTENSIVE, EARLY, HIGH-LEVEL COORDINATION
Early coordination among the OAC team is critical to ensuring successful concrete pours once construction begins. Our team gets input from all project stakeholders to develop a detailed schedule and site logistics plan, leading to a productive workflow from day one. Creating this plan early will allow all trades to coordinate among one another to continue work around the jobsite while concrete is being poured. Additionally, advanced scheduling and proper planning is required for these large pours so the concrete plant can provide and guarantee exclusive service to this specific jobsite on pour days to accommodate the volume of concrete needed.
PROCUREMENT OF MATERIALS AND SUPPLY CHAIN MANAGEMENT
With the status of the current supply chain, getting the materials onsite to support the pour dates is critical, including items like post tension tendons, concrete mixes, rebar, steel embeds, electrical rough-ins, and sleeves. To ensure timely delivery of material we utilize lean practices, consisting of pull plans to develop a procurement schedule. In this schedule, we start at the pour date and work backwards considering all the durations to get the material onsite. These durations include transit, fabrication lead times, architect approval, contractor approval, submittal generation and subcontractor award. By using this supply chain management tool, we support the dates of the pour and ultimately our critical path.
It is critical that all project stakeholders are bought in to the procurement schedule. Strong partnerships are developed with our subcontractors to understand the true source of materials to ensure we are tracking and managing material procurement proactively. Full visibility in the procurement process is essential to support the scheduled concrete pour dates.
TECHNOLOGY AS A QA/QC TOOL
Our team combines VDC technology with on-site field verification for a comprehensive and detailed QA/QC program. One of the keys to a successful concrete flow is continually planning the work and site logistics before ever stepping on site so that all work can be verified before it is put in place, which prevents costly rework and schedule impacts.
Juneau's QA/QC Process
BIM:  The QA/QC process starts day one when our VDC team is integrated into the project. A structural model is created in-house that incorporates all information related to concrete. This model is shared with the architect, engineers, and trade partners to get input from all stakeholders so that changes can be made early, quickly, and easily without the cost and schedule impacts that come once construction has started. Another key component of the structural model is incorporating MEP coordination, which allows all engineers and trade partners to begin working together on value engineering, constructability analysis, and development of project sequence and schedule. This helps to ensure all systems are designed correctly prior to construction starting. The model is color-coded to indicate different PSI of concrete needed for various areas of the building, including columns, shear walls, slab on grade, elevated slabs, and more. This helps the team identify potential cost and schedule savings by confirming only the required PSI of concrete is purchased and poured at these specific locations. Updates to the model can be made in real-time as information develops and is shared with the entire project team to ensure everyone is using the same information. Getting our VDC team involved with all parties early in the preconstruction phase creates a collaborative environment that solves problems early on before construction begins.
Field Validation: Our QA/QC Program for all concrete work continues once construction has started and generally follows the sequence below:
At a minimum, weekly drone flights are done to capture existing conditions prior to any concrete being poured. Our project team uses this information to check critical items, such as edge of slab and formwork conditions to ensure these matches the contract documents.
After rebar, PT cables, and sleeves are installed, the slabs are laser scanned prior to concrete placement to confirm all pieces are in the correct location. Completing a laser scan before a concrete pour can prevent things like imbeds or sleeves from being missed and ensure elevator shafts are installed within 1/8" tolerance.
The success rate of our field validation plan is close to 100% in preventing rework on our active projects. Trade partners are seeing the success and benefits of executing this plan, and in some cases, our VDC team is working alongside trade partners to get their own in-house laser scanning QC programs implemented.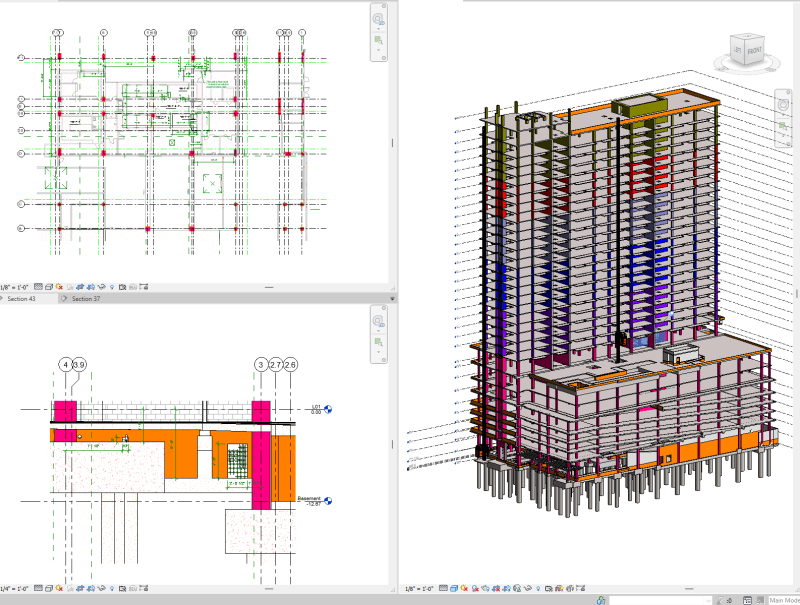 Concrete activities impact the entire project schedule, so ensuring that each pour is on schedule is a high priority. Implementing lean construction principles, creating pull-plans and three-week-look-aheads, and using technology as a QA/QC tool, leads to successful concrete pours, which ultimately prevent costly schedule delays and rework.
Back to All Insights