Juneau Construction Company COVID-19 Protocols and Safety Protocols
I. Purpose
The purpose of this policy is to minimize transmission of the coronavirus (COVID-19) virus in the workplace by providing protection to employees and thus preventing transmission to members of the community. This COVID-19 Policy on applies to all employees of Juneau.
II. Policy and Protocols
A. Vaccinations
Juneau Construction Company ("Juneau") strongly encourages all employees to be fully vaccinated. Employees are considered fully vaccinated two weeks after completing primary vaccination with a COVID-19 vaccine with, if applicable, at least the minimum recommended interval between doses. For example, this includes two weeks after a second dose in a two-dose series, such as the Pfizer or Moderna vaccines, two weeks after a single-dose vaccine, such as Johnson & Johnson's vaccine, or two weeks after the second dose of any combination of two doses of different COVID-19 vaccines as part of one primary vaccination series.
Currently, obtaining a COVID-19 vaccination is voluntary and within the discretion of each employee.
B. Supporting COVID-19 Vaccination
An employee may take up to four hours of duty time per dose to travel to the vaccination site, receive a vaccination, and return to work. This would mean a maximum of eight hours of duty time for employees receiving two doses. If an employee spends less time getting the vaccine, only the necessary amount of duty time will be granted. Employees who take longer than four hours to get the vaccine must follow the standard procedures outlined in the Employee Manual and are subject to the attendance policies set forth therein. If an employee is vaccinated outside of their approved duty time they will not be compensated.
Employees may utilize up to two workdays of sick leave immediately following each dose if they have side effects from the COVID-19 vaccination that prevent them from working. Employees who have no sick leave will be granted up to two days of additional sick leave immediately following each dose if necessary.
All time off requests, whether to obtain the COVID-19 vaccine or for sick leave to recover from side effects, shall be the same as time off request submissions outlined in the Employee Manual.
C. Mandatory Face Coverings
All Juneau employees working in an area classified as a "high" transmission community pursuant to CDC guidelines must wear a face covering at all times while indoors and irrespective of vaccination status (i.e., no face covering is required while an employee is outdoors).
Face coverings must: (i) completely cover the nose and mouth; (ii) be made with two or more layers of a breathable fabric that is tightly woven (i.e., fabrics that do not let light pass through when held up to a light source); (iii) be secured to the head with ties, ear loops, or elastic bands that go behind the head. If gaiters are worn, they should have two layers of fabric or be folded to make two layers; (iv) fit snugly over the nose, mouth, and chin with no large gaps on the outside of the face; and (v) be a solid piece of material without slits, exhalation valves, visible holes, punctures, or other openings. Acceptable face coverings include clear face coverings or cloth face coverings with a clear plastic panel that, despite the non-cloth material allowing light to pass through, otherwise meet these criteria and which may be used to facilitate communication with people who are deaf or hard-of-hearing or others who need to see a speaker's mouth or facial expressions to understand speech or sign language respectively.
The following are exceptions to Juneau's requirements for face coverings:
When an employee is alone in a room with floor to ceiling walls and a closed door (i.e., indoors).
For a limited time, while an employee is eating or drinking at the workplace or for identification purposes in compliance with safety and security requirements.
When an employee is wearing a respirator or facemask.
When an employee is seated at their workstation.
Where Juneau has determined that the use of face coverings is infeasible or creates a greater hazard (e.g., when it is important to see the employee's mouth for reasons related to their job duties, when the work requires the use of the employee's uncovered mouth, or when the use of a face covering presents a risk of serious injury or death to the employee).
Additionally, all visitors to Juneau offices and jobsite trailers must similarly wear a face covering as outlined above.
D. Employee Notification of COVID-19 or Exposure to COVID-19
All employees who are exposed to COVID-19 (whether in the workplace or elsewhere) must promptly notify their supervisor and HR and provide essential tracing information upon request, such as the exposure date, close contacts with other employees, vaccination status or if they have tested positive for COVID-19 within the preceding 90-days.
Similarly, all employees shall immediately communicate to their supervisor and HR if they are sick or experiencing symptoms while at home or at work. In addition to the leave policies outlined in the Employee Manual, Juneau will permit employees who test positive for or are diagnosed with COVID-19 up to an additional ten (10) leave days in a calendar year.
Medical Removal from the Workplace
Juneau has also implemented a policy for keeping COVID-19 positive employees from the workplace in certain circumstances. Juneau will immediately remove an employee from the workplace if they have received a positive COVID-19 test or have been diagnosed with COVID-19 by a licensed healthcare provider (i.e., immediately send them home or to seek medical care, as appropriate).
Return to Work Criteria
For any employee removed because they are COVID-19 positive, Juneau will keep them removed from the workplace for at least five (5) days, or until the employee has resolving symptoms (i.e., 24-hours with no fever). The CDC's Quarantine and Isolation Guidance is available at: https://www.cdc.gov/coronavirus/2019-ncov/your-health/quarantine-isolation.html.
The following flow chart illustrates quarantine and isolation requirements when an employee is exposed to, or tests positive for, COVID-19: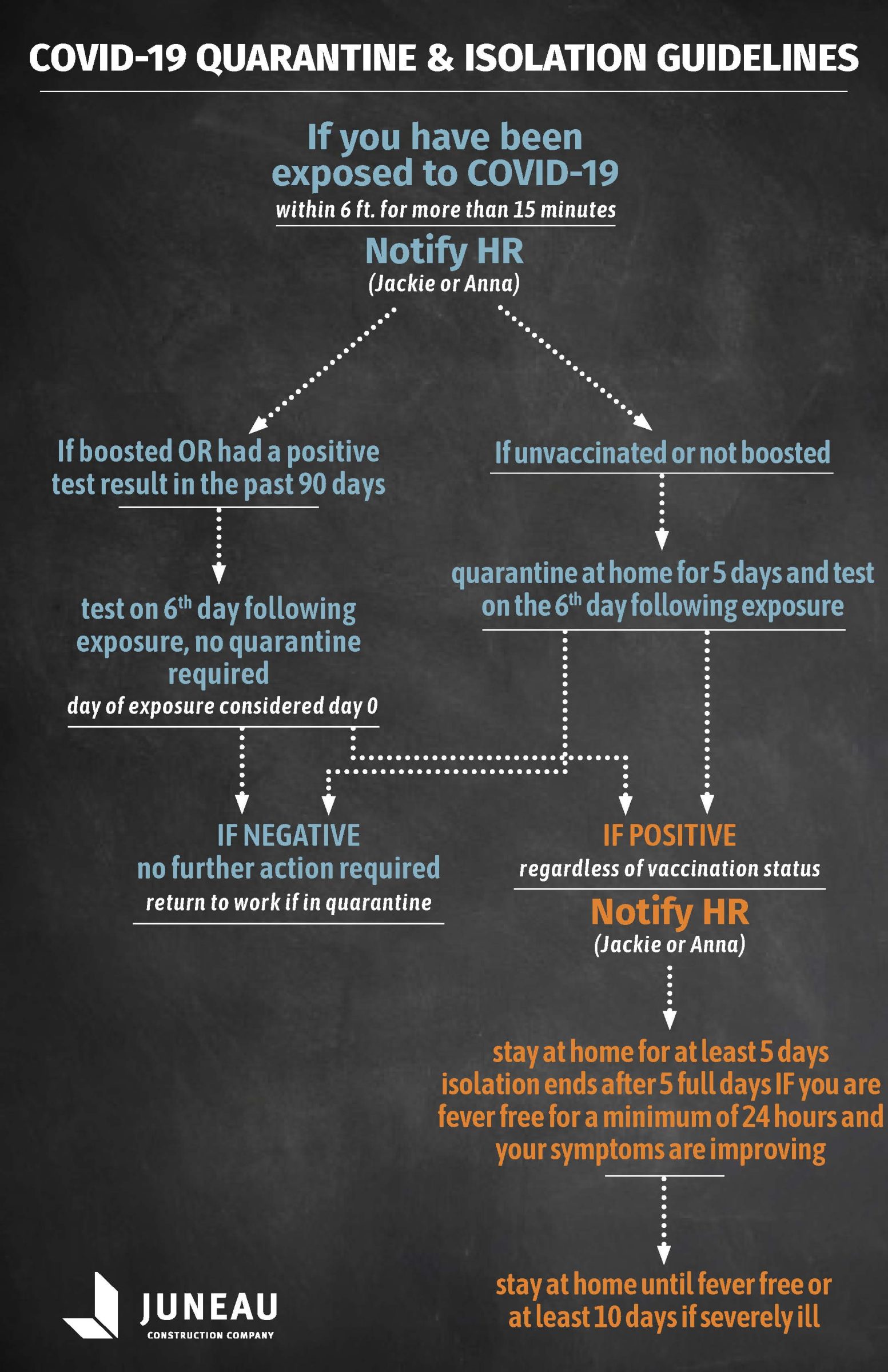 If an employee has severe COVID-19 or an immune disease, Juneau will follow the guidance of a licensed healthcare provider regarding return to work.
E. Miscellaneous Safety Protocols
In addition to face covering requirements and the above quarantine/isolation protocols, Juneau has taken additional steps to further mitigate the transmission of COVID-19 and protect employees. Protective barriers have been installed at employee workstations, face coverings are available at the entrance of Juneau offices and jobsite trailers, and sanitation stations remain in place.
Where feasible, Juneau encourages employees to continue physical distancing in all communal work areas. While in-person gatherings are permissible (subject to the mandatory face covering requirements above), employees are encouraged to conduct internal or third-party gatherings via video conference to further mitigate the transmission of COVID-19.
III. Confidentiality, Privacy, and Legal Compliance
In accordance with the Health Insurance Portability and Accountability Act of 1996 (HIPAA) Privacy Rule, all medical information collected from employees, including vaccination information, test results, and any other information obtained as a result of an employee's compliance with this COVID-19 Policy, shall remain confidential and treated as protected health information under HIPPA, Title I of the Americans with Disabilities Act (ADA), and applicable regulations from the Equal Employment Opportunity Commission (EEOC).
Moreover, Juneau will continue to strictly enforce its anti-retaliation prohibition and other Federal labor protections as outlined under Section 2 of the Employee Manual.
IV. Questions
Please direct any questions regarding this policy to Human Resources.
---
An individual is considered "Fully Vaccinated" when they have received their primary series COVID-19 vaccine in accordance with CDC's recommended dosage and timing guidelines. The primary series COVID-19 vaccine consists of the two weeks after a second dose in a two-dose series, such as the Pfizer or Moderna vaccines, two weeks after a single-dose vaccine, such as Johnson & Johnson's vaccine, or two weeks after the second dose of any combination of two doses of different COVID-19 vaccines as part of one primary vaccination series.
Back to All Insights